The EVA 4400 offers an easily deployed enterprise class virtual storage array for midsized customers at an affordable price. With built in virtualization, it is designed to improve capacity utilization and be easy to manage, which lowers the cost of ownership compared to traditional arrays. It has high performance, scales easily and is highly reliable.
The EVA 4400 delivers real value to customers with cost savings that include easy setup, installation and configuration, and self-repair capabilities. EVA 4400 also offers an embedded switch version and tiered storage, so you can match the value of data to your business needs with support for solid state drives, high-performing Fibre Channel drives or lower priced FATA drives. With the flexibility to attach to iSCSI and FC SAN networks, you can deploy networking technologies that make sense for your environment. With Command View management software and storage provisioning capabilities of Dynamic Capacity Management software, customers spend less time managing their storage and more time managing their business.
All of our pre-configured storage solutions are backed with a three year warranty including remote support. Additional options can be purchased from our HP Refurbished stock holding of over 250,000 items. If you can't quite find what you're looking for and wish to modify any configurations, please get in touch with our IT specialists.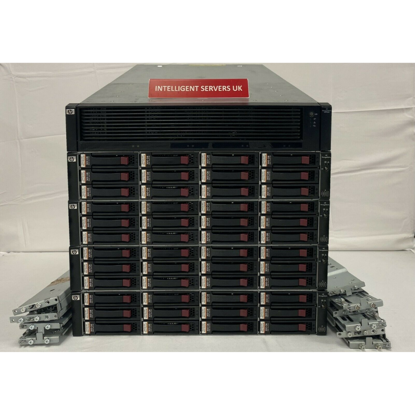 1x HP StorageWorks 4400 Dual Controller With CV & BC Unlimited Licenses 2x PSU's
4x HP M6412A Fibre Channel Drive Enclosure
48x HP EVA M6412A 300GB 15K 4Gb Fibre Channel Dual Port
9x HP SFP 4GB 0.5 Metre Fibre Channel Cable
5x HP MSA20/MSA60/MSA70/EVA44/64/84xx Rack Rails Kit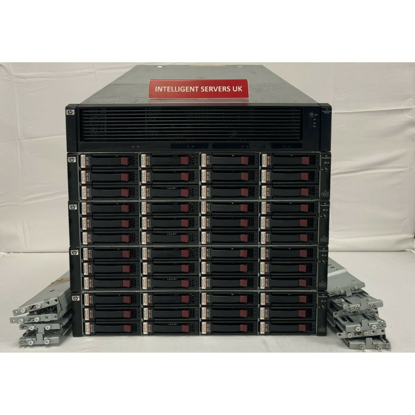 1x HP StorageWorks 4400 Dual Controller With CV & CA Unlimited Licenses 2x PSU
4x HP M6412A Fibre Channel Drive Enclosure
48x HP EVA M6412A 300GB 15K 4Gb Fibre Channel Dual Port
9x HP SFP 4GB 0.5 Metre Fibre Channel Cable
5x HP MSA20/MSA60/MSA70/EVA44/64/84xx Rack Rails Kit